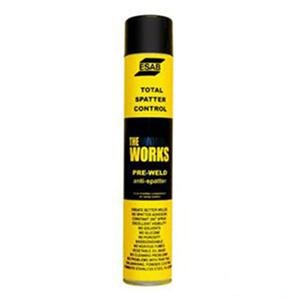 Antispatter The Works Pre-Weld 600ml
Product Description
Related Products
Downloads
Product Description
ESAB The Works Pre-Weld Anti Spatter
The ESAB Pre-Weld fluid is so much more then a traditional anti spatter. ESAB have managed to develop a product that has a much higher concentration of the active substance then any other product available. The product does not evaporate off the work piece, it gives extraordinary protection all the way from the very edge of the weld and out on the work piece. But still the product is vegetable oil and completely safe, no dangerous/harmful substances are included. The fluid is absolutely silicon free and water-soluble, there are no problems painting or doing any other post-weld treatments.
The spray can contains 600 ml of active fluid, no solvents. The fluid is kept in an aluminium bag inside the can. The pressure surrounding the bag forces the fluid out when the valve is opened. This allows the can to be sprayed at an angle and still allows you to get every drop out of the can. Note that it's only active fluid that comes out, this is what makes the product so efficient.
When welding stainless steel the ESAB Pre-Weld can eliminate the need of pickling paste. If the fluid is applied before welding and again when the material has cooled down, the discolouring can be removed by using just a non-abrasive piece of material.
Related Products
Downloads