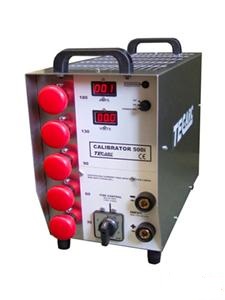 Product Description
Specification
Product Description
The ultimate engineers tool for calibration / validation of welding machines to BS EN50504
This range of Calibrator machines have set new standards for validation / calibration equipment and have become the leading product for validation in Europe.
The Calibrator 500i AC DC is extremely portable, weighs only 12.5kg and doesn't need any external power supply. This design really speeds up the whole process of setting up and validating all types of machines including, MIG, MAG, MMA, TIG. They can also be connected to TIG machines with the HF running.
The Calibrator 500i is based around a resistive load bank (dummy load) with very accurate digital meters built in, the unique cooling design allows for a very compact and light machine unequalled by any competitive product.
Features and Functions:
Hand portable – weighs only 12.5kg.
No external power supply needed.
Unique design means easier & faster validations.
0-500 Amps AC & DC (600 Amps peak) with true RMS.
0-99.9 Volts AC & DC readout (120V peak) with true RMS.
Bright LED display of both AC DC amps & volts.
Allows validation to BS EN50504;2008
Accurate very stable readout to 0.5%+/-1 digit.
5 specially chosen loads to give up to 25 settings.
Fine control up to 20 Amps.
Calibration traceable to National Standards.
HF safe design means no blow ups on TIG.
Robust all aluminium construction.
Front controls well protected by overhang.
Supplied complete with welding leads.
Dimensions 500x260x400mm
Specification