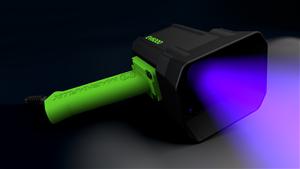 EV6000 LED UV Black Light Kit - 626953
Product Description
Related Products
Product Description
EV6000 LED UV Black Light Kit – 626953


The EV6000 LED UV lamp is a portable, hand-held UV lamp for fluorescent non-destructive testing applications like fluorescent penetrant testing and fluorescent magnetic particle inspections. This UV lamps utilizes the latest LED technology from Magnaflux, building on 5 years of LED UV lamp designs and over 85 years of non-destructive testing experience.
UV-A radiation is generated by special high-performance LEDs and focused through custom-designed optics to provide the maximum irradiated area available from any hand-held lamp on the market. The EV6000 features a uniform beam with no hot-spots, with a 9 in / 23 cm wide beam, 33% wider than the next widest hand-held UV lamp in the industry. Custom-designed optics provide intense and even coverage of UV-A for clearly visible indications, and an integrated filter ensures minimal visible light emission.  Durability is enhanced with advanced cooling that needs no fan, and a lens that does not solarize. The EV6000 boasts low energy consumption, is environmentally sound, and certified to NDT standards for LED UV lamps and certified for Aerospace Prime and OEM specifications for emission spectrum and beam profile.
Each unit is shipped with a manufacturer's certificate of conformance which meets or exceeds all current specifications for use with fluorescent liquid penetrant and magnetic particle testing.
Benefits & Features:

•Maximum irradiance at 15 in / 38 cm is 5,000 μW/cm2
•9 in / 23 cm wide, uniform circular beam
•Light weight at only 2 lb / 0.9 kg
•No hot-spots in the beam profile
•Rugged, durable design
•No internal fan
•Low energy consumption
•Aerospace prime and OEM certified
•Improved operator and environmental safety
•Certified to ASTM / RRES / NADCAP
Related Products