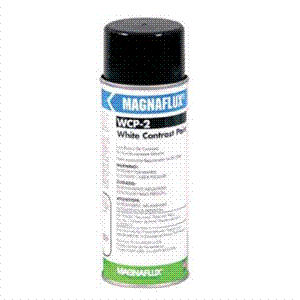 Magnaflux WCP-2 White Contrast Paint 400ml
Product Description
Specification
Downloads
Product Description
Please note, due to pressurised aerosols being classified as Hazardous Materials there are restrictions on how these goods may be shipped within the UK and Northern Ireland and as a result we have had to impose higher charges. At checkout please select the "Magnaflux Aerosol" postage option for the correct shipping cost.
General Description:
WCP-2 is a ready to use, rapid drying white contrast paint used to provide a white background to enhance visible magnetic particle indications.
WCP-2 is specially formulated to produce a thin dry film giving a high opacity semi-matt finish. It is low in sulphur and halogens and contains no chlorinated hydrocarbons.

Composition: 
WCP-2 is composed of acetone and inorganic pigments. The aerosol propellant is carbon dioxide.

Application: 
Parts should be cleaned and dried prior to testing to ensure a more uniform test surface. Shake WCP-2 to ensure uniform distribution of particles. Apply a uniform thin film of WCP-2 to the test surface. Wait one minute to allow the WCP-2 film to dry. Apply magnetic particles to the test surface. Observe indications formed around leakage fields. If base material has a high retentivity, indications will remain visible. If base material has a low retentivity, the indications will appear to slowly fade away.

Post Inspection Cleaning: 
The parts must be properly demagnetized before cleaning to ensure ease of particle removal. Acetone will remove WCP-2.
Specification
Downloads