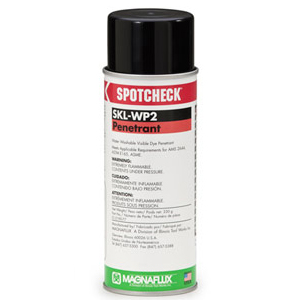 Magnaflux Water Washable Penetrant SKL-WP2 400ml
Product Description
Specification
Downloads
Product Description
Please note, due to pressurised aerosols being classified as Hazardous Materials there are restrictions on how these goods may be shipped within the UK and Northern Ireland and as a result we have had to impose higher charges. At checkout please select the "Magnaflux Aerosol" postage option for the correct shipping cost.
General Description:
Spotcheck SKL-WP2 is a red visible dye, low odor, water washable penetrant. SKL-WP2 exhibits outstanding penetrating characteristics, which provide for increased reliability of discontinuity identification. SKL-WP2's water wash removability eliminates the need for solvent removers or emulsifiers to remove excess surface penetrant. WARNING: Penetrants attack and even dissolve many kinds of plastic pipe.  Polyvinyl chloride (PVC) pipe is especially vulnerable, and can crumble after only a few days of exposure.  Even diluted penetrant rinsings attack it rapidly.  ABS plastic pipe is nearly as sensitive. When installing plumbing to handle penetrant rinsings, use metal pipe.

Composition:
SKL-WP2 consists of non-volatile penetrating oils, surface active agents (emulsifiers) and dye.

Method of Application: 
Immersion, flooding, brushing, conventional spray, aerosol spray

Penetration/Dwell Time: 
The generally accepted minimum penetration time is 10 minutes. Some specifications may require longer dwell times. SKL-WP2 is generally removed by water spray.
Specification
Downloads