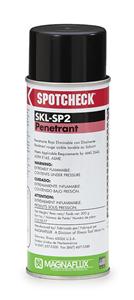 Magnaflux SKL-SP2 Penetrant 400ml
Product Description
Specification
Download
Product Description
Please note, due to pressurised aerosols being classified as Hazardous Materials there are restrictions on how these goods may be shipped within the UK and Northern Ireland and as a result we have had to impose higher charges. At checkout please select the "Magnaflux Aerosol" postage option for the correct shipping cost.
General Description
Spotcheck SKL-SP2 is a solvent removable (or post emulsifiable) red colour contrast penetrant. SKL-SP2 exhibits outstanding penetrating characteristics which provide for maximum reliability in locating surface-open flaws and discontinuities. 
It can be used over the entire spectrum of industrial applications, where a visible penetrant 
inspection system meets the requirements for surface-open flaw detection. Typical applications include castings, forgings, leak testing, welds and general metal work. SKL-SP2 has also been successfully used on non-porous ceramics and similar materials. However it is not recommended for the inspection of plastic materials, as it may stain, soften or even dissolve the base material under test. 
Composition
SKL-SP2 is composed of a blend of petroleum distillates, plasticiser and an oil soluble  
organic red dye.

Advantages
Excellent Colour Contrast 
Detects a wide range of surface defects  
Cost effective & easy to use
Click here to view further information about the product.
Specification
Download