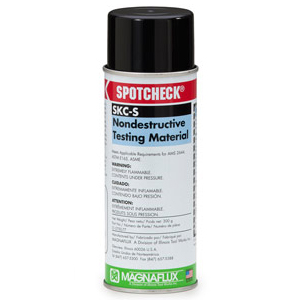 Magnaflux SKC-S Cleaner 400ml
Product Description
Specification
DownloAD
Product Description
Please note, due to pressurised aerosols being classified as Hazardous Materials there are restrictions on how these goods may be shipped within the UK and Northern Ireland and as a result we have had to impose higher charges. At checkout please select the "Magnaflux Aerosol" postage option for the correct shipping cost.
General Description:
SKC-S cleaner / remover is a clear colourless flammable solvent used as a general pre-cleaner and penetrant remover. SKC-S is ideal for situations where chlorinated solvents are undesirable or prohibited. Its unique composition allows use on a wide range of substrates to remove oils, greases and other contaminants.

Composition:SKC-S is composed of a blend of aliphatic petroleum distillates.

Directions: 
Apply product to a cloth, wipe surface and repeat as needed. DO NOT SPRAY SKC-S directly on the part because penetrant indications may be removed.
Specification
DownloAD