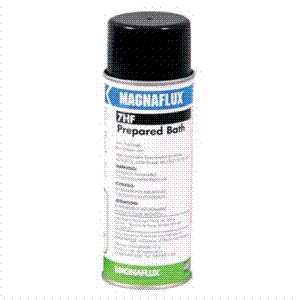 Magnaflux 7HF MPI Ink 400ml
Product Description
Specification
Download
Product Description
Please note, due to pressurised aerosols being classified as Hazardous Materials there are restrictions on how these goods may be shipped within the UK and Northern Ireland and as a result we have had to impose higher charges. At checkout please select the "Magnaflux Aerosol" postage option for the correct shipping cost.
General Description: 
7HF is an oil based ready to use black ink for wet method magnetic particle testing.The ink is used in conjunction with suitable magnetising equipment to locate fine surface and slightly subsurface discontinuities in ferrous materials.
Typical defects found include shrink cracks, welding defects, grinding cracks, quenching cracks and fatigue cracks. 7HF gives clear black indications when viewed in daylight.
Composition: 
7HF consists of a suspension of magnetic particles in a high flash petroleum distillate.

Method of Application: 
Aerosol spray is the only possible method of application. First, make sure that the inspected surfaces are clean and dry. For permanently magnetized parts, shake can until agitator rattles; cover surface with spray. When using the continuous magnetizing method, fix the part in the magnetizing unit, cover the surface quickly with 7HF Black spray, and immediately magnetize the part. 

Clean Up: 
Demagnetize the part, and wipe clean with rags dampened with either water or solvent. Complete removal of 7HF magnetic particle materials will be impossible if the part is not demagnetized.

Due to the classification of these goods as Dangerous for shipping purposes, we will quote carriage charges individually based on quantity and destination.
Specification
Download