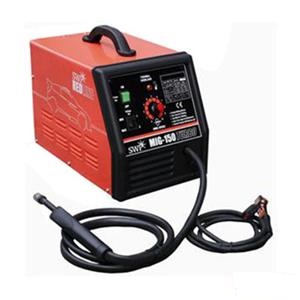 Redline 150 Mig Welder 230v - RL150
Product Description
Specification
Related Products
Product Description
Redline 150 Mig Welder 230v – RL150
The Redline 150 is a single phase Mig machine aimed at the DIY enthusiast who is looking for sensible performance with either solid or gasless, flux-cored wire. Power output is 30A – 150A, making it suitable for hobby or workshop use.
It has a sturdy thermoplastic case with sloping control panel for ergonomic weld setting and a hinged side panel for easy replacement of 0.7kg or 5kg wire reels. Heat input is controlled via the normal 4 setting adjustment with electronically-controlled, infinitely variable wire speed. This machine also features reverse polarity for running gasless, flux-cored wire. Thermal protection with a warning light is fitted as standard as is turbo fan cooling.
The torch is a non-live, 2m torch, featuring the more robust MB15 type front end spares, which are much more reliable than the average hobby torch spares. The earth lead and clamp are fitted to the front of the machine. The primary power cable sensibly comes out the back of the machine (avoiding sparks and spatter).
The Redline 150 requires a gas supply. A gas hose is supplied with the machine and depending on the type of gas cylinder you are going to use you will either require a regulator for disposable cylinders or high pressure cylinders. Both are listed under related products. If using disposable cylinders and opting for the CEBFLO regulator you will also require a short length of tubing TUB50 to connect the machine gas hose to the CEBFLO regulator.
We would recommend that you use the Hobbyweld gas available through this website and our depots. Other companies selling low-rent gas are available, but for pure convenience Hobbyweld can't be beaten. For Hobbyweld cylinders you will need the Single Stage 2 Gauge Argon/CO2 Sureflow Regulator.
Warranty is 2 years and includes collection and return costs.Having said about the warranty we cannot recall a single issue on warranty with over 100 machines sold to date.
Full package contains:
Redline 150 Mig Welder.
Non-live 2m Torch with MB15 type front end spares.
2m Primary cable.
2m Fitted Gas Hose.
2m Earth Lead and Clamp.
Reversible 0.6/0.8mm Feed Roll.
Starter Reel 0.8mm Gasless Wire.
Adaptor to take 5Kg Reels.
Instruction Manual.
Specification
Related Products