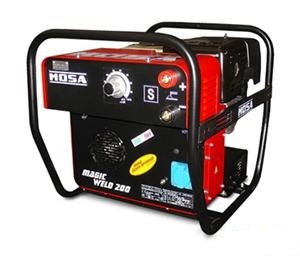 Magic Weld 200 Portable Petrol Welder
Product Description
Specification
Related Products
Product Description
The Magicweld 200 petrol welder generator is the latest addition to the best selling Mosa Magicweld series. This Network Rail and London Underground approved petrol generator is extremely portable and ideal for site work repairs and maintenance.
This high quality Italian made petrol welder is built to full UK rental specification. This model offers additional welding output compared to the 150 version, offering an impressive 200 amps @ 60% duty cycle for welding electrodes up to 4mm.
Key Features:
HONDA GX270, 8.5 HP Petrol Engine c/w Oil Alert.
DC Welding Output.
High performance alternator w/permanent magnets.
Patented Digital Welding Control.
Chopper Welding Technology.
Welder Generator Output – 1.6 kW 110V AC for Power Tools/Lighting.
Overload Protection.
Patented Auto Idle.
Extremely economical fuel consumption of only 1.5 litres per hour.
4mm Welding Electrode Capacity.
Welding any type of electrode including Cellulosic.
Extremely Portable Welder with protective frame – Only 57 Kg.
EEC Noise Compliant.
Specification
Related Products