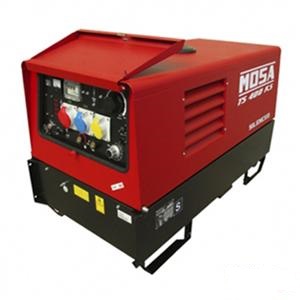 Mosa Diesel Welder TS400KSX/EL
Product Description
Specification
Specification
Specification
Related Products
Product Description
The Mosa TS 400 KSX/EL is an industrial quality, high specification, engine driven diesel welder generator for site welding work.
The TS 400 welder provides 400 amps welding output and 110/240/415V/13KVA electrical auxiliary output, stepless welding power adjustment and a lockable super silenced canopy.
Key Features:
400 amp DC welding output.
Stepless electronic welding control.
Arc control for cellulose electrodes.
AC generator output – multi-voltage 13kVA.
Electric start.
Auto idle control.
Super silenced canopy.
EEC noise compliant.
Remote control option.
Optional site and road tow kits.
Specification
Specification
Specification
Related Products