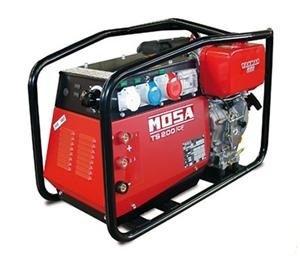 Mosa Diesel Welder TS200DES/CF
Product Description
Specification
Related Products
Product Description
The Mosa TS 200 DES/CF is an industrial quality, professional standard, engine driven diesel welder generator for site welding work. The TS 200 welder provides 200 amps welding output.
Equipped with a high quality YANMAR L100N diesel engine and an asynchronous alternator, it can be used as a welder or as a three-phase and single-phase electrical generator up to 6 kVA.
Key Features:
Dual Range Welding Control.
Welds all types of electrodes, including Cellulosic.
Welds 1.6mm, 2.5mm and 4.0mm Electrodes.
Ground Fault Interrupter.
AC Generator Output – 6kVA – 400V, 4kVA 230/110V.
Electric Start Engine.
Yanmar L100N Diesel Engine.
Wrap Around, Tubular Steel Protective Frame.
Battery Charge Alarm.
Thermal Shut Off.
Meets EC Directives.
Specification
Related Products