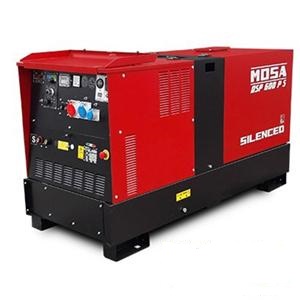 Mosa Diesel Welder DSP600 PS-CC/CV
Product Description
Related Products
Product Description
Diesel Engine driven welder – PERKINS 1103A – 33G1 Engine –  Three-phase asyncronous alternator  – Three-phase generation 30 kVA – Single-phase generation 15 kVA – Max welding current: 600A

The engine-driven welder DSP 600 PS is a professional machine with digital adjustment of the welding parameters DSP (Digital Signal Processor) and welding circuit with Chopper System (high frequency 20 kHz). Equipped with a Perkins series 1103 diesel engine and an asynchronous alternator, it can be used simultaneously as a welder and as a three-phase and single-phase electrical generator.

Thanks to the lower engine speed (1500 rpm) it is suitable for continuous operation in all conditions. Designed to meet the requirements of professional welding in direct current, a selector switch allows the operator to choose between 5 different welding programs:

LIFT ARC TIG – TIG welding by controlling start-up in "Lift Arc" mode. The arc begins with a simple contact of the electrode on the workpiece and lifting the tungsten electrode from the workpiece initiates the arc without inclusion.
MMA STICK (3 PROGRAMS) – Specific for MMA ELECTRODE (CC) welding, they offer three different levels of arc force, with increasing short-circuit currents including cellulosic.
MIG MAG – Dedicated to SOLID WIRE OR FLUX-CORED WELDING, providing employing a constant voltage (CV) welding process with optional MOSA WF4 Wire Feed Unit.
The DSP 600 PS is a super-silent engine-driven welder with compact canopy, suitable for a wide range of applications, including large metal fabrications, oil pipelines and use in construction sites.

In according with CE regulation


FEATURES
• Arc multi-process welder: 
– SMAW:Shielded Metal Arc welding (Stick)
– GTAW: Gas Tungsten Arc Welding (TIG)
– Contact starting – GMAW: Gas Metal Arc Welding (MIG)
– FCAW: Flux Cored Arc Welding (Flux Cored) 
• High frequency digital control of welding current and voltage
• Specific welding programs for cellulose electrodes
• Double welding range (HALF/FULL – 50% / 100%)
• Digital Ammeter/voltmeter welding
• A.C. generator, single-phase and three-phase
• Aux power also available while welding
• Emergency stop button
• Meets EC directives for noise and safety
Related Products