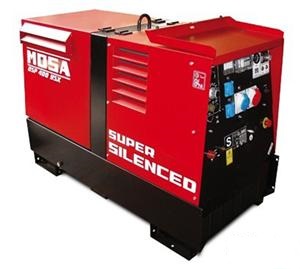 Mosa Diesel Welder DSP400YSX/VRD
Product Description
Specification
Related Products
Product Description
The engine-driven welder DSP 400 YSX is a professional multi process machine with digital adjustment of the welding parameters DSP (Digital Signal Processor) and welding circuit with Chopper System (high frequency 20 kHz) capable of delivering up to 400 A with a duty cycle of 60%.
Equipped with a Yanmar 3TNV76 water cooled diesel engine and an asynchronous alternator, it can be used simultaneously as a welder and as a three-phase and single-phase electrical generator up to 12 kVA.
Designed to meet the requirements of professional welding in direct current, a selector switch allows the operator to choose between 5 different welding programs:
LIFT ARC TIG – TIG welding by controlling start-up in "Lift Arc" mode. The arc begins with a simple contact of the electrode on the workpiece and lifting the tungsten electrode from the workpiece initiates the arc without inclusion.
MMA STICK (3 PROGRAMS) – Specific for MMA ELECTRODE (CC) welding, they offer three different levels of arc force, with increasing short-circuit currents including cellulosic.
MIG MAG – Dedicated to SOLID WIRE OR FLUX-CORED WELDING, providing a constant voltage (CV) welding process with optional MOSA WF4 Wire Feed Unit.
Key Features:
High frequency digital control of welding current.
Multi proocess CC/CV welder MMA, Mig, Flux cored, Tig (Contact Starting)
Low welding current range (50%) in C.C. mode.
EP7 Engine shutdown (oil pressure/high temperature/low fuel/battery charge.
Auxiliary power (up to 12 kVA)
Bunded base.
Large fuel tank (45 Litres)
Yanmar, water-cooled diesel engine (EPA-EURO 2 compliant)
Meets EEC directives.
Specification
Related Products