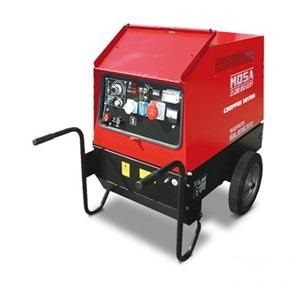 Mosa Diesel Welder CT230 YSX CC/CV
Product Description
Specification
Related Products
Product Description
The Mosa CT 230 YSX-CC/CV is an industrial quality, high specification, engine driven diesel welder generator for site welding work.
The CT 230 welder provides 210 amps welding output and 110V/230V electrical auxiliary output and stepless welding power adjustment.
Additionally it is also suitable for MIG welding with the optional Mosa WF4 CC/CV Wire Feed Unit.
Key Features:
DC Welding Output – 210 Amp @ 60%
CC/CV Constant Current – Constant Voltage.
High Quality Chopper Control for Smooth Welding Characteristics.
Stepless Electronic Welding Control.
Variable Arc Force (Digging) Control.
VRD – Welding Voltage Reduction Device.
Long Run Tank – 20 Hours.
AC Generator Output – 5 kVA 230 / 2.5 kVA 110V.
Electric Start Engine.
Yanmar L100N Diesel Engine
Super Silenced Canopy – Lockable.
EEC Noise Compliant.
Specification
Related Products