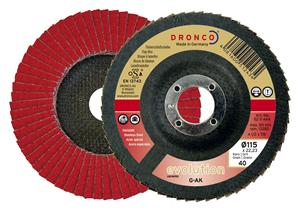 Flapdisc 115 x 22mm P60 Evolution
Product Description
An innovative flap disc from Dronco with self-sharpening ceramic grain which guarantees a permanent and extremely high stock removal as well as an extremely long service life. Outstanding results when grinding on surfaces as well as on edges on mild steel or stainless steel. It also features a tapered surface for an easy and natural grinding angle.
This product is generally claimed to have 3 times the removal rate and life over conventional Zirconia flap discs. Manufactured in Germany for consistent quality.
This product is 60 Grit which is the medium one of the 3 grades available.