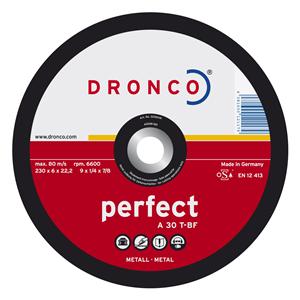 Disc Grinding 7x1/4 DC Steel
Product Description
General purpose industrial quality grinding disc suitable for steel. Depressed centre for use with 178mm (7″) angle grinders.
Dronco are a high quality German manufacturer of abrasive products. They manufacture over 200,000 cutting and grinding discs per day at their production site in Bavaria and all discs conform to EN12413.
Their products are sold widely and have been sold in the UK for the last 10 years. We have been a distributor for them for all that period during which time we have never had any quality issue arise from their discs.
The Perfect range from Dronco represent quality and performance for the craftsman at an affordable price and is their best selling range. The abrasive band is manufactured from naturally occurring Corundum which is a crystalline form of aluminium oxide (Al2O3) with traces of iron, titanium and chromium. It is the third hardest natural mineral known to science and gives an excellent metal removal rate.