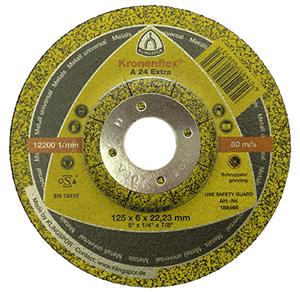 Klingspor Cutting Disc 9" x 3mm Depressed Centre Steel
Product Description
Klingspor Cutting Disc 9″ x 3mm
General purpose depressed centre cutting disc for steel. For use with 100mm (4″) angle grinders.
The standard Klingspor steel cutting disc is 3mm thick compared to 3.2mm for most other manufacturers. This gives an advantage in that less downward pressure is required to make a cut.
Klingspor cutting discs are also known for their high lateral stability which is particularly important when you need to make deep cuts into solid material e.g. to cut risers or large profiles. The enormous lateral forces that occur while working require discs with high stability.
Suitable for steel and tool steel.
Typical applications:
Foundries;
Shipyards;
Steelwork;
Maintenance;
General fabrication.