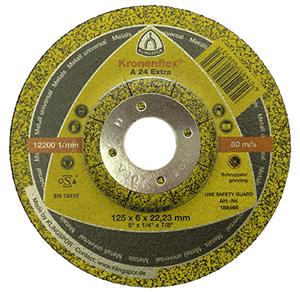 Cutting Disc 9x1.9mm Depressed Centre Steel/Stainless Steel
Product Description
9″ x 1.9mm Depressed Centre Cutting/Slitting Disc, suitable for use on both mild and stainless steel. Free of iron and sulphur. Suitable for use on 230mm/9″ angle grinders.
Requiring little effort, the special thin cutting disc is easy on man and machine. High cutting speed, long service life, hardly any burring. Particularly suitable for sheet metal and thin-walled profiles.
The standard disc used in tank construction and general fabrication. Sold as each.
Klingspor Kronenflex Cut-off discs offer a high degree of lateral stability. They are known for their short cutting time, good stability and minimal burr formation.
Suitable for use on:
Mild steel and stainless steel.
Hardened and tool steel.
High alloy steels.
Corrosion and acid proof steels.
Zinc die-casting.
Typical applications:
Shipyards.
Steelwork.
General fabrication.
Plant construction.