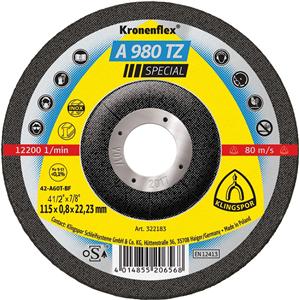 Cutting Disc 4 1/2 x 0.8mm Flat Inox
Product Description
Take advantage of our bulk buying of 5000 discs at a time to ensure you get the best price.
0.8mm Slitting disc for use with 115mm (41/2″) angle grinders. Extremely popular across a wide variety of industries and we believe Klingspor are the only manufacturer to have developed the 0.8mm disc for greater cutting speed with less effort.
These cut-off discs develop their full power when working on thin-walled material and are known for their precise, accurate and fast cuts at lowest thermal loads. Due to the cut-off wheels excellent cutting properties the weight of the angle grinder is usually sufficient pressure to ensure a perfect cut.
Klingspor Kronenflex cut-off wheels are known for their high level of safety, efficiency and productivity.
Typical materials for these products:
Steel and stainless steel.
Typical Applications:
Vehicle bodywork.
Maintenance and repair work.
Steelwork.
Plant construction.
Sheetmetal work.