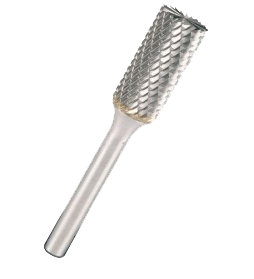 Klingspor Tungsten Carbide Burr 6mm HF100B
Product Description
HF100B Klingspor Tungsten Carbide 6mm Burr

Properties:

Cylindrical burr with end-cut.
Designation in accordance with DIN 8032: ZYAS.

Advantages:

The end-cut makes it suitable for blind holes and faces on inner contours.

Diameter in mm: 9,6 
Height in mm: 19
Total length in mm: 64
Shaft diameter in mm: 6  
Cut: 6
Packing unit/pcs: 1
Cat number: 295569
The Klingspor tungsten carbide burr has a 6mm shaft diameter and double cut for universal applications, improved handling and low vibration. Creates a small chip.
This has the cylindrical burr without end cut for universal applications. Well suited for interior contour work.
Diameter in mm: 8
Height in mm: 19
Total length in mm: 64
Shaft diameter in mm: 6  
Cut: 6
Packing unit/pcs: 1
Cat number: 295553